14 July 1919 – 4 March 2013
My father was a great influence on my life. This biography perhaps explains why.
John McCracken McNair was born in Liverpool in 1919, the son of Charles Stuart McNair and Elizabeth McCracken, and with three sisters, Mollie, Elizabeth and Christine. He was brought up in a strongly Presbyterian home, and although he later chose to leave organised religion, he retained the strong moral sense of those days throughout his life. He was educated at Alsop Boys School and won a scholarship to Queen's College Cambridge, where he read Modern Languages, and rowed for his college.
In 1938, while working as a guide for the Holiday Fellowship he met Rene Brookes, with whom he shared a passion for hillwalking, music and theatre, and who he married in 1942 while on leave from the army, the beginning of a deep partnership which lasted almost 70 years
He graduated in the first year of the War, and as a conscientious objector he joined the Royal Army Medical Corps. However, he the changed his mind about the justification for war, joining the Intelligence Corps and then the Seaforth Highlanders, serving in North Africa, Holland and Germany, and attaining the rank of Major. He was awarded the Military Cross for rescuing one of his men under fire, but after the war, with characteristic modesty, he never used his army rank, or talked about his achievements.
At the end of the war he trained as a teacher, living with his parents in Giggleswick, and then with Rene's mother in Bridlington, where their first son, Stephen was born, and then in Sidcup, Kent. In 1948 they moved for a year to Grenoble in France, where he taught in the Lycée, and where their daughter, Barbara was born.
Returning to England in 1950 they moved to Wembley where he joined the languages department of Haberdashers Aske's School (then in Hampstead).  He began a long involvement with the Labour Party, and was active in the Pedestrians Association.  He coached the school rowing teams, and took an active singing part in school productions of Gilbert and Sullivan.
In 1955 the family moved to Hatfield New Town, where Stephen and Barbara grew up.  Haberdashers grew and thrived and he became in turn Head of Department, and Head of the Sixth Form. In 1957, Stephen joined the school as a pupil, and for the next seven years they shared the daily commute.  John and Rene were both active in the Labour Party and Oxfam.  He was a Group Scoutmaster, organising fêtes and dog shows, and an active member of the St.Albans Bach Choir, memorable for performances of the Bach B minor Mass, and its Christmas concerts. Family holidays continued the passion for walking and camping, in the Lake District, Scotland and Wales, and in France and Spain where they spent long summers keeping up his language skills. They were pioneers of canal cruising holidays in the 1950s.
In 1966 he was appointed a Lecturer in Education at Manchester University, and they moved to Alderley Edge in Cheshire.  Stephen had left home to begin his own career in education, and Barbara left home in 1968, to become a physiotherapist. In the early 1970s, Stephen and Margaret produced two grandsons, James and Andrew, who spent happy holidays with their grandparents.
John spent 17 years at Manchester, training language teachers, in the UK and for the British Council in Nigeria and Sierra Leone. He completed an M.Ed. degree, and became National Secretary of the Modern Language Association, and then of the International Federation of French Teachers. With old friends from St Albans, he and Rene embarked on a long planned project to walk the Pennine Way (sadly abandoned mid-way through ill health). In the final years before his retirement he undertook a major project to study the education system of Spain in the aftermath of the death of General Franco.  With Rene he spent five months touring Spain in a caravan, visiting schools and colleges, interviewing policymakers and educators about the Spanish education system.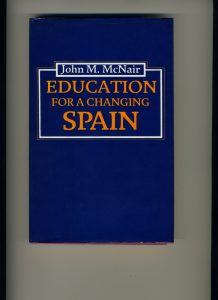 The resulting book "Education for a Changing Spain", was the first on the subject (in any language). Although its publication in 1984 was supposed to coincide with his retirement, the Spanish Government persuaded him to return to work as a consultant as they reconstructed their creaking education system.
In 1984 he was diagnosed with cancer, and had his bladder removed.  He rapidly learned to live with his "disability", and characteristically became an active volunteer for the Urostomy Association, later becoming Regional Secretary for the North West, and providing counselling and advice to countless cancer sufferers. With Rene, he moved to Todmorden, to be close to walking in the Pennines, but remain in reach of the University library in Manchester.  Barbara returned from Zimbabwe with two daughters, Grace and Thandi, and John and Rene found a new lease of life as very active grandparents.
In retirement he rapidly threw himself into local life. He became a volunteer reader for the RNIB, recording material as varied as the complete poems of Walter Scott, a Spanish textbook, and some fairly racy French poetry. He was also a reader for the  Todmorden Talking Newspaper for the Blind, which he continued until a month before he died.  He became a School Governor, and then chair of the Governors of Todmorden High School. With Rene he became a volunteer for the Hebden Bridge Citizens Advice Bureau. Once again he was active in the Labour Party (for whom he campaigned at every general election from 1952 to 2010). He joined the Todmorden Choral Society.  John and Rene also travelled widely, in Europe by caravan, and in the USA, Canada and Zimbabwe.
Identifying a lack of opportunity for people in Todmorden to get easily to the theatre, with Jack Bednall and Hugh Neems, he helped found Todmorden Easy Theatregoing, taking coachloads of people to theatres across the North and beyond, and he was still producing the TET Newsletter, and managing its mailing lists until days before his death.
In 2007, after a long illness, Rene died: the end of a long and very close relationship. During her last months, first in Halifax Royal Infirmary, and then in Millreed Lodge in Todmorden, he was constantly by her side, talking, reading to her and playing music. Characteristically, they had planned for the event, and he had benefited from her lessons in cooking and gardening, which enabled him to live independently at home until the last few weeks. He came late to domesticity, and gardening, but, partly in tribute to her, he learned to prune, plant and harvest, to freeze and to make jam. In his last month he made the new year's marmalade, as she had done throughout her life.
The new century brought another generation. In 2003 Andrew's daughter Hope Owen McNair was born.  In 2011 Grace married James, and in 2012 they produced a second great grandchild, Blake Dunford.
During the later Todmorden years, although his health continued to deteriorate (losing a kidney to cancer, with a hip replacement following a fall, and with severely declining hearing), his energy continued almost undimmed. He joined the Calderdale social car service, which he continued until he gave up his licence in his late 80s. He finally retired from the Ramblers Association at the age of 87 because he felt he was holding people back on longer hill walks. At the age of 92 he took part in a town twinning visit to Bramsche in Saxony (an area he last saw as a soldier in 1945). His last edition of the Talking Newspaper was at the end of 2012.
At the age of 87, again recognising a lack of opportunity, this time for adult education (the field where Stephen had made his career) he founded the Todmorden branch of U3A (the University of the Third Age). This became an overnight success, and one of his proudest achievements was when its membership passed the 300 mark a month before he died. He was particularly active in the Music, Poetry, and Philosophy Groups. Challenged by a fellow member to run a session on philosophy and language he spent much time researching a presentation which finally led to a five week course in linguistic philosophy (almost certainly a first for any U3A branch).
In late 2012 his health became more precarious and he spent some time in hospital, and Barbara (herself newly retired) and her partner John moved to Todmorden to be closer. However, he returned home confident of recovery and full of plans. In mid February 2013, days after a hearty pub lunch in Wensleydale with Stephen and Margaret, and after his U3A meeting, he fell ill again. Doctor Wilde, who had been a supportive friend through 20 or more years of increasingly complex health problems, gave him the news that he was dying. John received this with characteristic equanimity and turned his mind to planning arrangements. On his last weekend his children, grandchildren and great grandchildren gathered round his bed. He joined us in a toast, and made a speech about his pride in us all. Two days later he died peacefully at home, with Barbara and Stephen at his side.
John McNair was a truly remarkable man. He devoted his 93 years to making the world a better, and fairer place, devoting limitless energy and optimism to helping others. He was a modest man of great achievements, never thrusting himself into the limelight.  Since he died many people have said that he was a true gentleman.  He will be much missed by a host of people, as a father, grandfather, great grandfather, neighbour, friend, organiser and teacher.
Stephen McNair